Blogging is a popular way to share own knowledge with others and generate residual income. If you are planning to start blogging, you have to know the basic as well as advance process of blogging. You can get the blogging resource from other existing blog or any hard copy eBooks. But you won't get all resource in one place. You have to search and find the best tools and resource. To solve this little problem, I want to give you a free eBook which contains all about "make money Blogging". I didn't write the eBook. The eBooks was written by Daniel Scocco (www.Dailyblogtips.com). He is a successful blogger and internet marketer. The full detail about the eBook has been given below:
Screen shot of the book: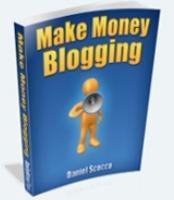 Contents of the Book:
What is blogging?
Tools needed to start blogging?
What software should use?
Is it really possible to make money blogging?
What should blog about?
How to write good headline?
Posting frequency.
How to design a blog?
Importance of logo?
Subscription tutorial.
Networking tutorial.
How to promote blog?
How to monetize blog? Etc.
Author: Daniel scocco
Website: www.dailyblogtips.com
Size: 1.31 MB
Page: 54
Chapters: 5
Price: worth 47$, Now 100% free
Download: